About Alexandria Williams
Alexandria is an internationally Run Influencer, speaker, FitHair expert, and best-selling author. With a passion for Marathons and Marketing, she inspires people to run and enjoy the journey one step at a time.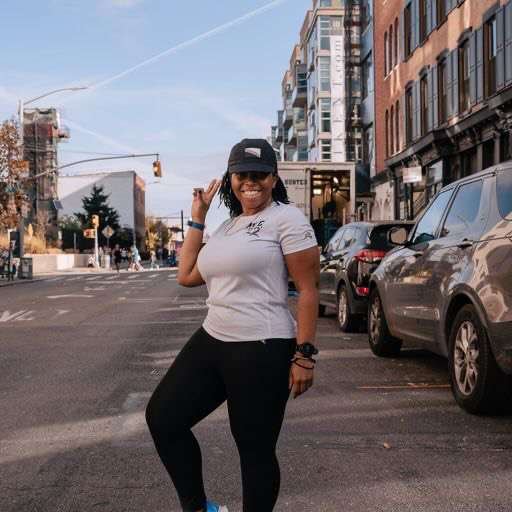 When not running, you can find her utilizing her decades of experience in Marketing as the newest Digital Marketing Manager for PE GI Solutions. With a passion for healthcare, she leads all digital marketing initiatives and strategies for the largest private gastroenterology practice in the Mid-Atlantic Region. 
Previously Alex was the Communications Marketing Specialist at CCI Health & Wellness Services, a Federal Qualified Health Center. In this role, she balanced all digital initiatives for the center. She led communications strategy for CCI's Women, Infants, and Children's (also known as WIC) program, the largest WIC provider for Maryland and the east coast. 
Alexandria has decades of experience in and impactful in the Marketing and Endurance industry. She was the first black runner featured on ESPN Run, documenting her first International Marathon at the Bermuda Marathon Weekend, and helped produce seven other docu-series. 
She worked directly with Brooks Running as an ambassador, increasing minorities within their influencer program for five years. She landed as one of their first sponsored influencers within the program. She has also worked directly with Jaybird and Garmin as an influencer and ambassador for several years. She is also the most awarded Women's Health Magazine recipient, as she was named 6 consecutive times. 
Alex has served on various boards, such as Social Media Dallas, National Black Marathoners Association, and PRSA Dallas Chapter. Additionally, she was a Content Chair Member of Running USA and Ambassador Director for Route 66. She has been featured in countless media outlets such as Runner's World, ESPN Run, SELF, Outside Magazine, CNN, ABC Night, and more. 
She serves as a Director on the Black Unicorn Marathoners and is a part of their event committee. She helps celebrate and bring together the largest number of Black Boston Marathoners annually. 
Alex has made it her mission to inspire hundreds of people to run & influence one step at a time. You can find her training on her quest to complete the six major marathons, finding a local juice spot after a hard workout at Orangetheory, or captivating an audience on the value of living a balanced life as an experienced Digital Marketing Professional.